Written by: Sara Moreno     7/27/2022
Combating the climate crisis has become a popular subject in discussions about community action, policymaking, and financial investing. The issue of how an individual can address climate change is fast-changing because of the progress in communication and technology. At this point in my life, my early adulthood, I feel the need to help re-shape the business paradigm, and guide leaders and organizations in their journey to reduce their carbon footprint, and even eliminate it entirely. As I prepare to enter the workforce and live independently, the topic of sustainability is broad and daunting, but being a part of an academic and innovative community like the University of Virginia, currently working to change its energy consumption and production systems in order to reduce its carbon footprint, encourages me.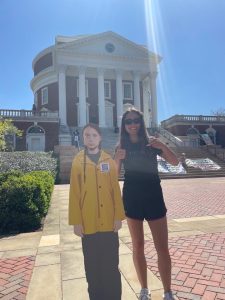 Scientific research and collaboration have made it possible to calculate the numbers for the carbon footprints of the different industries making up the economy. Communities can access investment, grants, and funds for climate mitigation, and resilience initiatives based on the needs they express, and their plans for climate action. Through my research for Resilient Virginia, an organization that helps communities access resources for climate mitigation and resilience, I have learned that there is a lot of support available for policymakers, local officials, and business leaders, as well as everyday citizens to recalibrate and pursue sustainable practices. 
There are different areas of impact that organizations' decision makers can focus on such as industry, community action, and public policy. A clear understanding of adaptation opportunities and capabilities is needed to take advantage of those resources. Generating interest in climate initiatives is important in order to secure funds and labor to actualize them. Organizations like the Institute for Sustainable Communities (ISC) and the Partnership for Resilient Communities (PRC), focus on connecting residents in communities so that solutions for climate resilience and mitigation are agreed upon, and effective because they consider different perspectives and capabilities of individuals within the community. Organizations like the Green Tech Alliance and Federal Financial Assistance Programs for Resilience Activities work to foster connections to help companies tackle economic and environmental problems with insight from research and other companies.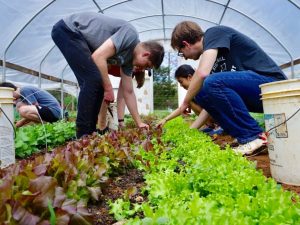 Even though most college students do not hold the kinds of jobs that run manufacturing, policymaking, or major business investments, straight out of college, our role in sustainable development is significant. UVA's "Great and Good" plan for 2030 outlines its vision, strategic goals, key initiatives, and timeline for serving the public in the future. The Grand Challenge Research Initiatives are part of UVA's "Great and Good" plan, and give UVA researchers resources to pursue two avenues focused on environmental resilience and sustainability: researching and perfecting clean energy, and helping local communities develop best practices for responding to climate-driven challenges. With the collaboration of students, faculty, and other people and organizations that care about the environment, UVA has been able to find alternatives to meet the institution's needs for operation, shifting from fossil fuel consumption and outsourced resources to renewable energy and local collaboration.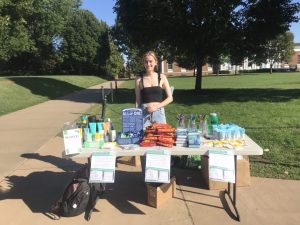 The UVA Foundation recently announced that its 3,000-acre historical farm will become UVA's Sustainability Lab. The lab will be used for education, innovation, and engagement for students, faculty, and residents of the Charlottesville community. UVA is going to invest $60 million in sustainability solutions through Students, and the team at UVA's Facilities Management worked to make UVA certified by the Xerces Society as a pollinator friendly campus. Measuring progress coherently across all initiatives is difficult to standardize because the objectives for climate action in each sector are not totally the same. It helps to remember that first and foremost, people are consumers. They can cast their votes for decision makers or policies that promote sustainability, but they also cast votes daily with how they spend their money and consume resources. There are different approaches to investigation, prioritization and planning.
Regardless of the sector seeking to improve, it is difficult to transition to sustainable living without readily available options and communication on why sustainable practices are necessary. UVA has the funds and community support to redesign its infrastructure and sourcing so that its carbon footprint can be reduced. Without the funds and people willing to work for change, I would not have the privilege to say that I am part of a sustainable community.
Resilient Virginia is dedicated to giving people the access to resources that can guide their planning for climate mitigation and resilience, economic growth and development, while minimizing carbon footprint. Like UVA, Resilient Virginia engages people of different vocations to bring new perspectives and outcomes that have a widespread impact.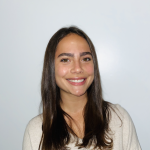 Sara Moreno is a rising fourth year at the University of Virginia. She is majoring in Global Environments & Sustainability and minoring in Urban & Environmental Planning.