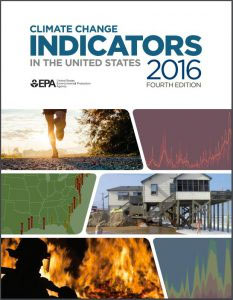 This 2016 report from the U.S. Environmental Protection Agency (EPA) shows compelling and clear evidence of long-term changes to our climate and highlights impacts on human health and the environment in the United States and around the world.
The report features observed trend data on 37 climate indicators, including U.S and global temperatures, ocean acidity, sea level, river flooding, droughts and wildfires.
Click here to view the report online, or visit the EPA website to explore the indicators for climate change.